jouer au jeu original Super Mario Bros en ligne gratuitement
Super mario free game
---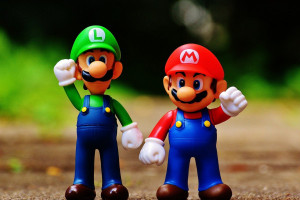 On our website you will have an opportunity to dive into nostalgia while playing a Super Mario free game. It is a world-famous platform video game, designed and created in 1985 by Nintendo. Super Mario free games give you a chance to travel back in time when there were no PC or next-gen consoles, like PS5 and to try for yourself what retro gaming has to offer for you.
Main characters and Plot of the game
The main characters of the game are the plumber Mario and his brother Luigi. Heroes have to travel through the Mushroom Kingdom, kill the soldiers of the Turtle King and save the Princess he has captured.
Gaming process
Mario defeats his opponents by jumping on them from above or punching the platform on which the enemy is standing from below. «Frightened» enemies can be used as a weapon against other enemies, pushing the shell in front of him. Some enemies cannot be jumped on, as this will injure Mario.
Coins and bonuses
During his journey, Mario collects coins and bonuses by hitting blocks with a question mark, as well as looking for secret coin vaults in brick walls. When Mario collects one hundred coins, he gets an additional «life». From the start of the game Mario has three «lives». Among the bonuses, there may be an orange mushroom. If the character picks one up, he increases in size, turning into Super Mario. If the enemy injures Mario or the time allotted for completing the level ends, the player loses one «life» and the game starts from the beginning. At some levels there are also bonuses in the form of a green mushroom «1-up», which adds one «life» to Mario.
Mario Universe
The game consists of eight worlds with four levels each. At the end of every fourth level, on a bridge over a lava lake, Mario meets a huge tortoiseshell dragon. Free games of Super Mario are a wonderful way to bring back childhood memories and spend your free time at this legendary series.
Recent Posts
---
Win mario mini console!
Just playing Mario and win Mini-console
It is easy to play Super Mario Bros
Super Mario Bros is an iconic arcade platformer, a real smash of consoles of the 90s. The game captured the hearts of millions of gamers, while it exists, and even hit the Guinness World Records as the best-selling project ever. We invite you to step into the past and play the original Mario Bros online.
Comments (18)
---